Are you looking for an extra large statement piece to cover the wall and become the centre point of your space? With art, sometimes bigger is better. Large wall art draws the eye and removes the need for curating and arranging several smaller pieces. It can be used as a standalone piece, or as the focal point to build a gallery wall around.
In this guide, find the best places to buy large wall art. Also, find how to frame, hang and style your large art piece, how to store it and where to find large art on a budget.
Disclaimer: Fine Art Tutorials is a reader supported site. When you make purchases through links on this site, we may earn a small commission at no extra cost to you.
Where to buy large wall art?
'It Was Another Lifetime', oil on canvas by Kia McCall on Saatchi
Featuring some of the best contemporary artists in the world, this online gallery has over 1.4 million artworks listed. Choose from sculpture, paintings, prints, drawings and photography. They have expertly curated collections and an advisory service for collectors. Canvas sizes vary on Saatchi Art, but if you search and filter for paintings or prints categorised as 'oversized' you will be able to find artworks around 2m.
Artfinder is another popular online gallery, connecting 7,000 emerging and independent artists with collectors from around the world. This gallery features collections of artists, in their best sellers and artists of the month, so you can check to see what's popular right now. Or if you are looking for something specific, filter the art for your tastes, for example landscape oil paintings or mixed media sculpture.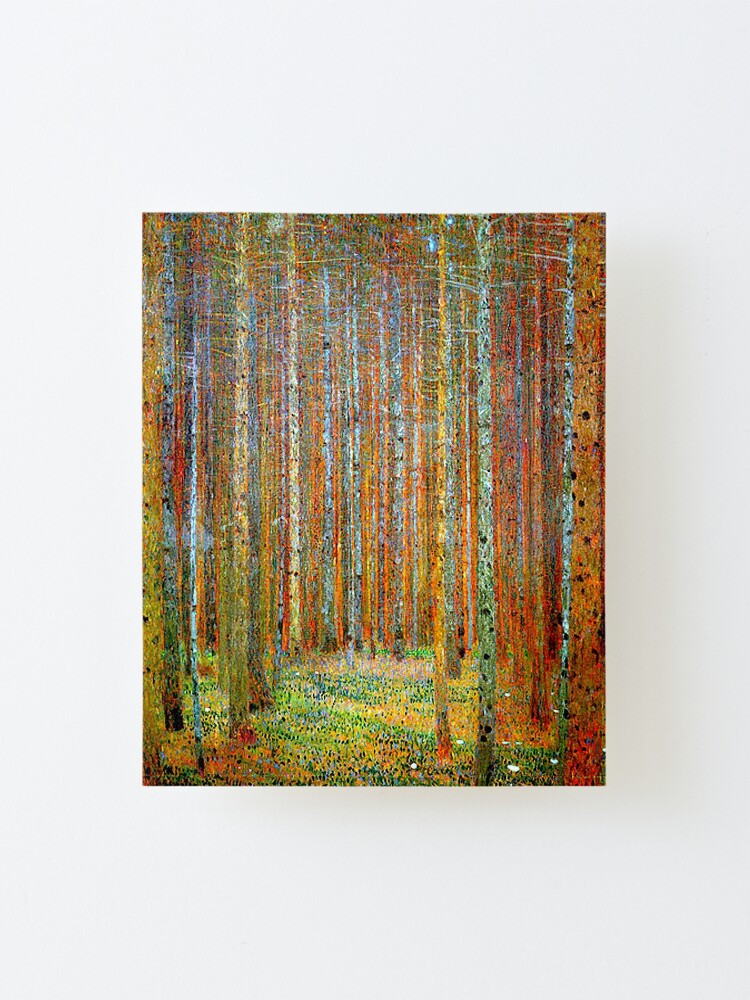 Redbubble is a marketplace founded in Australia that lists work by over 700,000 artists from around the globe. This platform lists open edition prints and reproductions that are printed on a number of different substrates. For example, you can buy tapestries, posters and metal prints, as well as paper and canvas prints. The styles on Redbubble vary, but there are lots of unique, illustrative works often with surreal themes and pop culture references. This is a place to pick up cool art at low price points. Extra large sizes for canvas prints on Redbubble are around the 75cm mark.
Society6 is another art marketplace specialising in selling open edition prints in a variety of formats. This marketplace lists work from over 300,000 independent artists. There are some great new products available to print onto on Society6, for example recessed framed prints and framed canvas prints.
Etsy is a marketplace for independent artists and small businesses. Find an eclectic mix of original paintings, prints, sculptures and all manner of art pieces.
To discover more online galleries, find our review of 23 art selling websites. If you're new to collecting art and you want some more insight into how to get started collecting art, read our guide.
Types of large wall art
Art comes in a multitude of different mediums, created on a variety of substrates. Learn about the differences of some of the different art mediums so you know what to look out for and how to display and keep your artwork looking as good as new for longer. By learning about some of the different mediums and materials in art, you can refine your tastes further and choose matching pieces for your home from different artists.
Large original oil and acrylic paintings
If the painting has been made on canvas or wooden panel, it's likely that it has been painted in oil, acrylic, tempera. Look for information about the medium used by the artist either in the gallery, on the product page if you are buying online, or ask the artist yourself.
'Jungle Greenhouse' painting by Peter de Boer on Saatchi
Oil and acrylic are both versatile mediums. Artists can apply paint thickly to achieve texture, or thin paint to achieve fine detail. On the original painting, you will see brush marks and the texture of the paint on the canvas.
Large oil or acrylic paintings will be the highest value piece of art you can buy. It could also potentially have a higher resale value, depending on the artist.
The benefit of buying a canvas or panel is that they will come cradled, with a built in frame that the canvas is stretched around. This means that you can hang it straight on the wall without having to get it framed if you choose. However, you can still frame a canvas, but it gives you the flexibility of skipping this step.
Canvas paintings are the most lightweight, which is great for transporting—the delivery charges are likely to be a lot less. Panels will be much heavier than canvas, so this is something to consider when buying larger pieces.
Large canvas prints
Art can be printed on a number of substrates, buyers are not limited to purchasing paper reproductions of artwork.
'Unknown Waters III' by Jacob Jugashvili
Canvas prints have the potential to be larger than paper, as it's more stable to frame and hang. They pop out of the wall and emulate the look of original canvas paintings.
Saatchi makes canvas prints up to around 45″. Redbubble makes canvas prints up to around 30″+ and Society6 makes canvas prints up to 35″+.
Watercolour paintings
'Wood Mood' by Oriol Angrill on Saatchi
Online galleries will usually ship large format watercolour paintings on paper in a tube or a crate. Watercolour paper at a large size is fragile compared to canvas, so take care when handling and framing it. The best option is to take it to a professional to be framed.
Watercolour paintings are often much more subtle and delicate in appearance compared to oil and acrylic and have a wonderful quality of light.
Drawings
'Into the Wild Drawing' by Dominic-Petru Virtosu on Saatchi
Pencil drawings made with ink, graphite, charcoal or coloured pencil make wonderful collectibles. Drawings will generally be made on paper and for larger pieces will generally ship in a tube. Frame behind museum glass to protect the artwork.
'Wave Series 25 Drawing' by Stephen Finkin on Saatchi
Pastel artworks bridge the gap between drawings and paintings. It's a versatile medium that lends itself to expression and precision depending on the artists' style. Pastel drawings can appear painterly in style, with loose marks and vibrant colours.
'Bather' by Ivana Živić on Saatchi
Pastel drawings can be made on paper or board. Add variety to your art collection by getting some artworks made in different mediums to what you would usually go for.
Prints
Giclée fine art prints on paper are a great option to add a feature wall to your home. Prints will be a fraction of the cost of originals, making them a much cheaper option.
Limited edition prints are often more expensive than open edition, but they tend to have more inherent value due to their limited availability. Prints from Saatchi come with a certificate of authenticity and you can optionally add a frame.
Sculpture
'Nailed it Series No. 104 – Edition of #5 Sculpture' by Sumit Mehndiratta on Saatchi
From carvings to metalwork, to glass and geometrical thread patterns, find an abundance of wall sculptures on Saatchi.
Sculpture by Karmin Schafer Hansen on Saatchi
The great thing about sculpture is that they are three dimensional and appear as if they are popping out of the wall with wonderful vibrant textures, colours and patterns. Sculptures are energetic, eye-catching and are a sure way to add an exciting touch to an interior.
Collect large art on a budget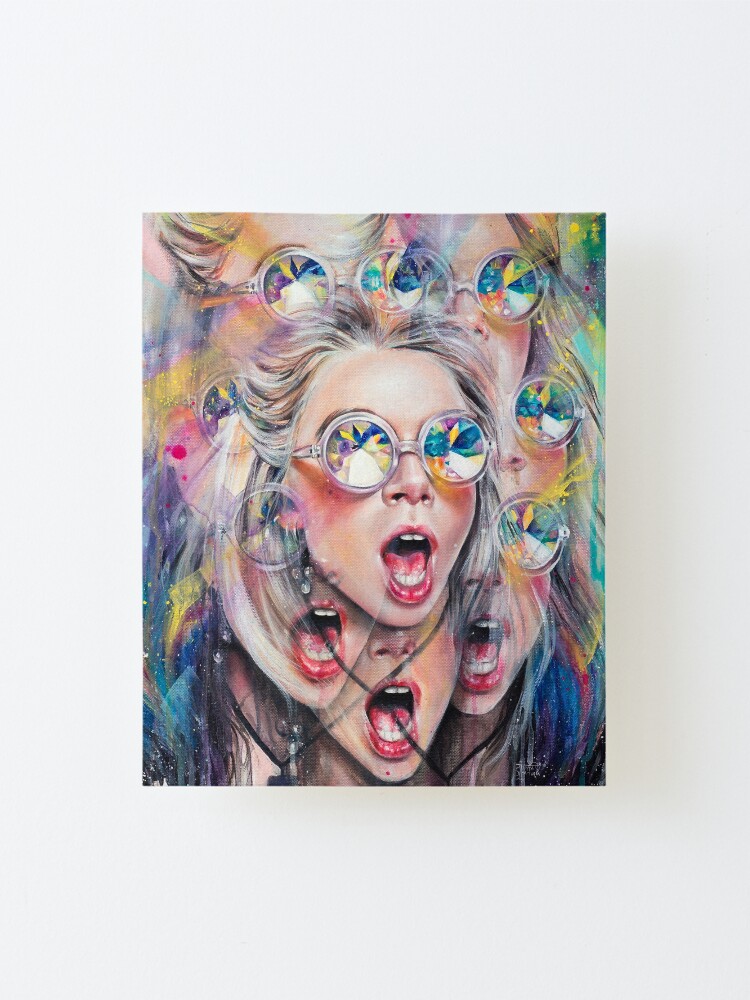 'Perception by Tanya Shatseva on Redbubble
It's possible to buy art on a budget, even large art! Larger pieces often come at a higher price tag, due to the extra resources and time used to make the paintings. However, shop for prints, canvas prints or tapestries if you want a reproduction of an original.
Prints on marketplaces like Redubble and Society6 are often sold at a lower price point compared to prints on online gallery sites like Saatchi and Artfinder.
If you're set on owning an original, look for watercolour paintings, drawings or even acrylic paintings which tend to be cheaper than oil paintings. The other option is to buy art from emerging artists. Find emerging artists on Instagram by searching for art related hashtags, or check out the Emerging Artist section on Saatchi to find their curators' picks of the best up and coming artists to look out for.
Large wall art styling tips
Optimise the impact of your large wall art by planning how it will fit into your space. This will be a case of checking the size and testing the placement on the wall, but also matching it to the surroundings.
It's important to choose an artwork that you connect with, that speaks to you. It could be something that lifts your mood, or reminds you of a memory that you want to keep. Whatever the incentive to buy art, you can make it work for your home.
Colour schemes
You don't need to foreplan a colour scheme and buy art accordingly, but taking note of some of the salient colours in the piece and maybe moving some of your accessories around in your home will do wonders for finding a balance and complementing the artwork. You could even plan a room around an art piece if you're thinking of redecorating.
Gallery walls
If you choose a medium large art piece, surround it with a selection of prints, paintings, watercolours, illustrations or drawings. Find a common theme, for example, choose art based on a colour scheme. Arrange gallery walls in a number of ways. Create a grid layout by choosing similar sized artworks and lining the edges up in formation. Or create a more eclectic layout with different sized artworks spaced randomly.
Pair it with minimal decor
If you have chosen an especially large, museum sized piece, let it do all the talking. Give it some room by designing the interior around the artwork. Match similar colours, or neutral colours to complement the artwork and try to reduce the amount of items in the room. Leave whitespace on the wall surrounding the artwork to make it the feature of the room.
Oversized art is often best placed in social living spaces, in living rooms or open dining rooms where your friends and family will get to see it. Art personalises a space, but it's also something we want to show and share! If an artwork brings you joy, it's likely that it will bring other people joy too.
Large wall art for the bedroom
Large wall art can work equally as well in your bedroom. Choose a piece that calms you and helps you to wind down, with neutral colours or blues to evoke feelings of tranquility.
How to frame a large painting
How you frame a painting will depend on the medium used and substrate that it has been painted on. If you have a watercolour, pastel, prints, pencil or coloured pencil piece on paper, frame it behind museum glass. Museum glass will protect the artwork from UV rays that can cause artworks to fade over time. Artworks on paper will be extremely delicate and should be handled with care—wear cotton gloves when handling art, as oils from your hands could damage the paper or colours.
Oil paintings and acrylic paintings will likely have been sealed with a final coat of varnish. The varnish protects paintings from moisture, dust UV and other potential environmental damages. This means that oil and acrylics are generally not framed behind museum glass, with the exception of ultra high value and historic pieces. If the artist painted on canvas or on a cradled wood panel, you can attach D rings to the back of the cradle and hang it straight away, or find a canvas frame. If the panel is uncradled, consider looking for a float frame.
The best advice if you don't mind spending extra on framing, is to take it to a professional. This is pretty much essential if you are framing a high value piece and you don't have any experience framing art.
Oversized art storage and display tips
As with all art, make sure that the colours are protected either with a final varnish layer or with museum glass. This will prevent the art from fading over time. It's also advisable not to hang art in direct sunlight, or low light. Oil paintings can darken over time if left in low lighting. It's good to find a balance and hang the art somewhere with lots of natural, but indirect light. In natural light settings, or in rooms with daylight bulbs, colours in artworks will appear much more intense and true to how the artist intended for them to appear.
If you're storing art for investment purposes, make sure to keep it in a temperature controlled room, that isn't too humid, or too dry. With extreme changes in humidity, flexible surfaces like canvas can expand and contract slightly. When canvases warp, brittle paint layers, like oil layers can be more prone to cracking over time.
Large art delivery advice
When shipping a large, high value artwork, make sure that it has been insured. This is so that if it's lost or damaged in transit, the value of the artwork is covered. The artist you are buying from will be responsible for packing the art unless you buy directly from a gallery. When purchasing from an online gallery like Saatchi, on the product page you can find out how the artwork will ship, for example whether it will be packed in a crate or a box. Saatchi specifies their insurance policy: "Saatchi art insures all shipments for the amount of the artists' commission for the sold work".
---
If you've found anything on this site especially useful, you can make a donation to me through PayPal. I take a lot of time to research and write each topic, making sure each tutorial is as detailed as possible and I make all my content freely available. Any small donation (even the price of a cup of coffee!) can help me to cover the running costs of the site. Any help from my readers is much appreciated :).
Follow the link in the button below to support this site.