If you're a first time art buyer, or even if you've started picking up a few pieces you love but would like some more direction, use this guide to help you start your very own art collection.
In order to start an art collection, first you need to know what you're looking for. Use this guide to help you describe and refine your tastes to find your new favourite artists. Then learn how to set a budget for your new collection and find where to look for art when you're ready to buy. Finally we'll walk you through the buying process, so you feel comfortable with the transaction.
Disclaimer: Fine Art Tutorials is a reader supported site. When you make purchases through links on this site, we may earn a small commission at no extra cost to you.
Immerse yourself in the art world: Explore different art styles
Artwork: Tile Painting by Johanna Bath, see on Saatchi Art.
Which styles and mediums are you drawn to? Once you start to research different styles, applications, eras and mediums, your ideas about what you like will become more cemented. This will, in turn, make your search for art feel easier as you will be able to better describe what you are looking for.
Research different styles, techniques and art movements. Buy some art magazines, art curation books or search for some blogs and read about how different paintings are described. You'll start to pick up the necessary jargon to make you better able to understand what you like. It will also give you a sharper eye at identifying which art mediums have been used to create the pieces you're interested in. Spot the difference between a watercolour, acrylic, tempura, pastel or oil painting.
There are so many different styles and mediums to explore, and once you start it's really fun! Search in online galleries like Saatchi—look at abstract expressionist pieces for gesture and movement, delicate watercolour pieces, or impressive photorealist drawings.
Refine your tastes
From your research, you might know that you like a particular style or medium. Use these keywords to search online galleries for art that matches your tastes.
Plan to collect art that has one unifying theme, or collect completely disparate pieces! It's up to you how you curate your artworks. For example, you may choose to collect textured paintings, oil paintings created with the impasto technique (whereby oil is applied to the canvas in thick strokes), or mixed media works.
There are plenty of contemporary artists who paint with thick texture applied to the canvas. Vahe Yeremyan creates bold, vibrant, impressionist styled textured works.
Use Saatchi's search feature to look for more artwork that matches your criteria. For example, Jean-Luc Almond's beautifully textured works come up as one of the top results when you search for 'impasto' in Saatchi art:
Candy man Painting by Jean-Luc Almond, see on Saatchi.
If you decide you really like the style and message of an artwork in an online gallery, you can usually find the artists' Instagram handle on their gallery profile. Following artists on Instagram is a great idea because you'll get updates whenever they release new work—it's a platform that brings all your favourite artists to one place.
Where should you look for art to buy?
Different artists favour different platforms. Many contemporary artists will have an online profile on Instagram, on their own website, Facebook or a gallery site. Read our roundup of the best places to buy art online for a more in depth guide.
Online galleries
Browsing through online galleries is a great way to find new artists and artworks. Online galleries like Saatchi and Artfinder will list artists' profiles and categorise art by its price point, style, subject and medium.
Most online galleries will verify the authenticity of the artwork and provide payer protection, some will even organise insured shipping. Online galleries sell originals, but you can also buy art prints to decorate your walls at a lower cost.
What are the best online art galleries?
Saatchi
Ocean Breeze by Vahe Yeremyan: see on Saatchi
Our top pick for online galleries is Saatchi—with over 1.4 million artworks listed, it really features some of the best contemporary artists in the world.
You can choose to work with an art advisor at Saatchi to get recommendations tailored for you, or browse through their curated collections.
Saatchi's curated collections are fun to explore. For example, they have a 'New This Week' collection so you can explore the freshest artworks. They also have their best seller list so you can see which artists are most popular.
Saatchi also offers a competitive global flat rate on shipping, which will be based on artwork dimensions. So even if the artist lives in another country, you can expect to save money on shipping.
There is a 7 day money back guarantee on artworks, so that you can be sure it is the right fit for you. Follow your favourite artists' profiles and create your own collector profile.
Artist picks from Saatchi art:
Artfinder
Another gallery we highly recommend browsing is Artfinder. Artfinder showcases unique works by 7k independent artists from around the world.
This is an especially good option for first time art buyers, as it is an affordable online art gallery. Search art for your budget—there are lots of pieces listed for under £100.
On Artfinder, you can choose to commission an artist to create a custom piece.
Top artist picks on Artfinder
Artspace
Artspace is the place to go to shop for works by big name artists, like Peter Doig and Louise Bourgeois. It showcases the world's best art.
Browse by price, medium and even find some design objects to add to your collection. Artspace offers door to door delivery and installation. Browse their magazine for collection inspiration, this article highlights featured artists to watch.
Rise Art
Rise Art is an online gallery platform that carefully curates and exhibits works from both established and emerging artists.
What's interesting about Rise Art, is that it allows you to rent art. So you can trial a piece to see if it works in your space. It helps you to explore your tastes before committing.
Online marketplaces
Marketplaces are a great place to find one off pieces of art and other products like prints and reproductions. There are often a range of goods available on these platforms, created by independent artists, so you don't have to limit yourself to searching for canvas paintings. Discover wonderful ceramic sculptures, or other design pieces to decorate your shelves and add variety to your art collection.
Etsy
Etsy is a great place to find original art and prints. It's one of the biggest global online marketplaces that features thousands of artworks by a multitude of talented artists. Find large, incredible oil paintings, or set your sights on something different like a screen print, or collage.
Etsy artist picks
Redbubble
Redbubble gives artists the platform to sell print on demand products including wall art like canvas prints and mounted prints. What's great about Redbubble is the choice of print format, choose from aluminium prints, boards even tapestries. Most prints are open edition and you won't find any original art like oil paintings on this site. The site lists work by illustrators, digital artists and also sells prints of drawings, paintings and mixed media art.
Redbubble prints are cheap compared to original and limited edition works sold by big galleries. The average piece of wall art will be under $50.
Redbubble artist picks
Society6
Society6 is a marketplace featuring works by independent artists around the world. It is similar to Redbubble as it stocks different types of wall art, like framed art prints, metal prints and more. Mix and match art prints, create awesome gallery wall layouts and collect multiple pieces. The low price points of artwork make it an affordable choice for new collectors.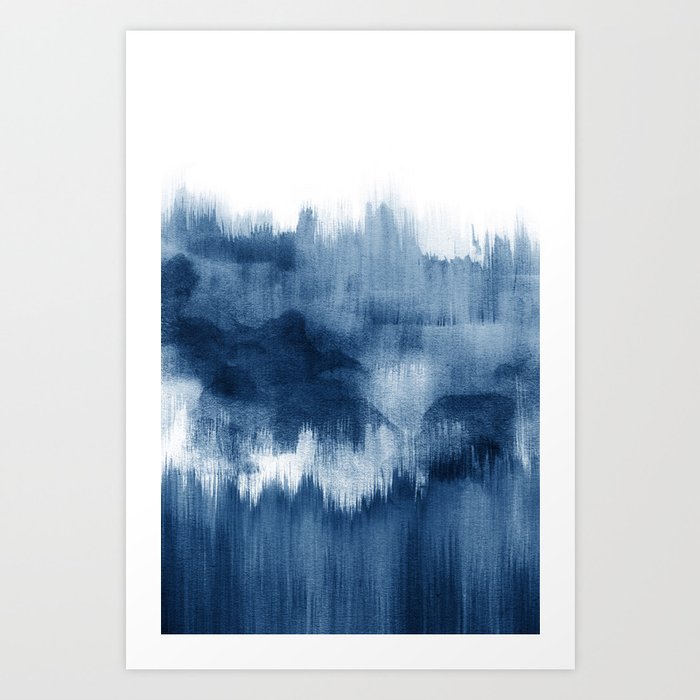 Blue watercolor brush strokes by Nouveauprints, see on Society 6.
Society6 artist picks
Galleries
Many artists will also show their work at different galleries and art shows. You could start by visiting art galleries in your local area. Often, artists will be at the gallery, so you can talk to them about their work.
It's a great thing to buy local and support an artist from your area, so this could work as a starting point. Equally, if you're planning any city breaks, go and explore the galleries in the area. It's a brilliant way to spend a few hours and get an insight into the local arts scene.
Art fairs, exhibitions and shows
Fairs, shows and exhibitions are a fantastic way to meet artists, see art up close and also to network with other collectors, dealers, designers and advisors.
If you're in the UK, The Affordable Art Fair in London showcases some great artists at lower price points. Frieze Art Fair, takes place in Mayfair London and in New York, caters for the higher end luxury art market.
Saatchi hosts The Other Fair, which takes place in LA, New York, Sydney, Dallas and London.
Discover art in publications
Collect different books, read through blogs and flip through magazines to find further inspiration.
Booooooom.com publishes spotlight articles on 'tomorrow's talent'—up and coming artists using various media. They also curate their own artist featuring magazines and books.
Artsy blog will help you get to know up and coming artists that should be on your radar. They publish regularly and feature interviews and exhibition recommendations.
Buy art at auctions
Attend a few auctions to learn how they work. Get used to the speed of bidding and the value of various pieces—it'll give you some insight into how the art market works. Once you feel like you have a handle on how auctions work, bid for your own piece. By attending auctions, you'll get a grasp for the estimated worth of various paintings and how desirable certain types of paintings tend to be.
Social media
Aside from looking for art in galleries and shows, Instagram is another great source of inspiration.
It's a great way to find and support contemporary artists. Look for new artists to follow by searching for different hashtags related to what you are interested in. For example, if you're interested in landscape watercolours, type this into the tag section of the explore page to find more of what you're looking for. Follow artists you like to get updates about new works being released.
Follow art curation pages that display works from multiple artists. For example, if you're into traditional, academic style paintings, check out Academic Artworks. For more contemporary, abstract style artworks, Contemporary Curator is a great page to follow.
Many artists will have a link in their profile bio to their online shop or gallery and information on how to purchase. The purchasing methods will be different depending on who the artist is. Some will have opted to create their own websites to handle the operation themselves, others will have listed their art on galleries or marketplaces.
Curate your own art boards
Another great Instagram tip is to use the save feature! If a piece really catches your attention, save it to a collection of your own and return to it later. Save pieces you're interested in buying, that way, you can have all the potential purchases organised in one board. When you're ready to purchase, you can go back to your saved Instagram boards and look at all the paintings together to evaluate which one would be the best choice.
Research the art you're buying
Before making a purchase, do some research about the artist. Read their biography on the gallery site, or on their website. You might discover more about the mediums and techniques the artist used, or about what inspired them to paint the subject.
Research which stage of their career the artist was at when they made the artwork. For some artists, early to mid-career works are regarded as most valuable. Usually because this was the stage where they were creating their formative original, recognisable pieces. This isn't always the case though.
Look at art on a case-by-case basis
You should look at the whole career of the artist to date, the influences and circumstances that lead the artist to produce certain works or collections of works that could be defined as being part of a certain period of their career. For example, Paul Cézanne and Noah Purifoy both achieved success later in their careers. Cézanne painted his whole life and his works only started getting noticed when he was in his fifties. His most famous works were produced in the 1890s and 1900s before he died in 1905.
Just because the piece of art has a famous signature on it does not mean it will be valuable. Many successful artists produced not so good pieces that will be more difficult to resell. The more you know about the artist and their career, the better you'll know if the piece you are eyeing up is a good investment or not. Gather opinions from galleries, art collectors, consultants, dealers and other experts before you buy to get second, third and fourth opinions.
Having a basic understanding of different techniques and mediums also helps. If you're interested in oil painting, refer to our oil painting techniques guide to learn more about what goes into the making of an artwork.
Check out this book: The Art of Buying Art to get some insight into how to evaluate art like a pro.
Think about how art will fit in with your interior
Another thing to consider when starting an art collection is how art will fit in with your interior. Do you have blank walls with lots of space? Think about investing in a large artwork, or buying multiple smaller pieces over time to create a gallery wall set up.
Colour schemes in artwork is something you can study to improve the aesthetic of your artwork when presented in your home. For example you could choose a statement piece that's large and hang several other smaller pieces in the same room that have more muted colour palettes. If you're interested, read our colour schemes blog to learn more about colour pairing, the psychological impact it can have on the viewer and how it can influence the feel of an interior.
Set a budget for collecting art
If an artwork captures your imagination to the point where you keep thinking about it, then it will find a way into your life. You may need to budget a little extra for these kinds of pieces. A piece that is of higher quality and stands the test of time will be a more worthwhile investment than something you settle for because it's cheaper.
If your budget is under $1000, look for works by emerging artists, limited edition prints, or smaller paintings.
With a bigger budget you will have some more flexibility to buy art at larger sizes, more original art, or art from more high profile artists.
When budgeting, always put aside some money for framing, delivery (which can sometimes include customs and duties) and insurance. On online galleries like Saatchi, you can read in the artwork description about whether it is ready to hang, so you will know if you have to put money aside for a framer.
How to start an art collection on a budget
If you have a limited budget, it's still possible to buy art and start your own collection. Here are some tips:
Look for art on marketplaces
Artworks on marketplaces like Redbubble and Society6 that give artists the platform to sell open edition prints are cheaper than buying from bigger galleries where more original art is sold. Etsy is a great place to find original art, prints and illustrations by emerging artists.
Many prints on these platforms will sell for under $50, so they are great value.
Buy works from emerging artists
Buying from emerging artists is fantastic as you're supporting someone at the start of their career. Artfinder and Saatchi are two awesome galleries that list an abundance of emerging talent. If the art is great and you love it, go ahead and buy it. But if you have a bit more of a cool head when it comes to making purchases, you might be wondering, how do I know if this is a good investment?
Look at where they are selling, does it have a review feature? If so, see what other collectors have felt about their purchases. Artists may also list whether they have gallery representation, or art prizes they have won.
Browse through their social media profile, look at the comments to see what people are saying about their work and how actively they are posting. If their work is high quality and they haven't been creating art for long, but are posting regularly, it's likely they will quickly begin to get a positive reputation.
Pay for art in instalments
Some online galleries offer the option of being able to pay in instalments. When buying works over £300 on Artfinder, you can make interest free payments over 6 or 10 months, starting with a 10% deposit.
Start with prints
'Saturday' print by Ieva Baklane, see on Saatchi
Buying a print or reproduction is a great way to start collecting art. Especially if you don't want to invest in the original, or if you're on a budget.
Look for artworks labelled as Giclée. These are made with pigment inks and are archival quality, so they will last without the colours fading over the years.
Limited edition prints vs open edition prints
Limited edition prints will have more inherent value, as there are fewer of them in circulation. When buying a limited edition print, it will be signed, numbered and come with a certificate of authenticity.
On Saatchi you will be able to find thousands of archival quality limited edition and open edition prints.
To find listings of affordable open edition prints, look on Redbubble or Society6. Bear in mind that open edition prints will have little to no resale value compared to original art. Limited edition prints can have resale value, depending on the artist.
How to buy art as an investment
The majority of this guide has focussed on people collecting art with the aim to decorate their interiors, but art can also be an investment. It's a great way to diversify your investment portfolio, as the art market doesn't follow the ups and downs of the stock market.
If you're interested in the investment side of art collecting, you have to know what you're looking for. I would advise that you learn about different art techniques, study the quality of paintings and immerse yourself in the art world—from galleries to auctions.
Talk to an art advisor and use their knowledge as guidance. It will shape how you approach buying art and can give your fresh eyes on pieces that you may not have previously considered buying. The book 'The Art Collectors Handbook' will give you some art market insights.
How to display and store your art collection
Paper is less expensive than canvas and wooden panel, but it's also less permeable. If you're buying a drawing, print or watercolour painting, it's best to display it behind museum glass which blocks UV to keep the colours from fading.
Be careful not to store or hang artwork in direct sunlight, as this can cause colours to fade. A good rule of thumb is to keep artwork in conditions that you would be comfortable in yourself. Around room temperature and not too humid or dry. Oil paintings can darken over time if left in a dark room, so showcase it in a room with lots of natural light to make the colours pop.
You can frame canvases yourself, check out Blick's supply of canvas floater frames.
Advice for beginner art collectors
The first tip is to keep hold of your certificate of authenticity. This verifies that the artwork is a legitimate original. Provenance documents show the ownership history of the piece. Saving these documents will increase the value of the artwork, making it a better asset to resell.
If you're buying expensive pieces, get them insured: gather the documentation for your art collection, like the provenance documents then make an inquiry with a fine art insurance company for more details.
How to start an art collection: Pin it!
---
If you've found anything on this site especially useful, you can make a donation to me through PayPal. I take a lot of time to research and write each topic, making sure each tutorial is as detailed as possible and I make all my content freely available. Any small donation (even the price of a cup of coffee!) can help me to cover the running costs of the site. Any help from my readers is much appreciated :).
Follow the link in the button below to support this site.