Looking for some inexpensive wall art ideas to add some colour to your space? Art can add personality to your rooms. Depending on the colours, style and subject you choose, you can completely transform the mood. Go with something big and bold to bring energy and dynamism to the space, or choose an artwork with muted tones to bring a sense of harmony.
There are a number of places to source art inexpensively, online marketplaces are a great place to start. Find large canvas prints, beautiful illustrations, tapestries and more. Here are some inexpensive wall art ideas that will turn your house into a home and won't break the bank.
Disclaimer: Fine Art Tutorials is a reader supported site. When you make purchases through links on this site, we may earn a small commission at no extra cost to you.
Find a large statement artwork
Large wall art is inevitably going to be more expensive than smaller wall art, but large pieces take up more space, meaning you need fewer of them. You could choose just one large print to cover your wall and make it a feature of the room. Large pieces catch people's attention and create a fantastic impression, especially when strategically placed in social areas where you have guests, like dining rooms or living rooms.
Extra large canvas prints on Redbubble go up to sizes 70x50cm and beyond! These large sized prints are excellent quality, made from durable canvas and are easy to hang. They will set you back around $200, which is pretty good considering an original canvas painting could be anywhere from 10x that price. On Etsy, you can find art at affordable prices, search for cheap art to find originals and prints.
Canvas prints look elegant and authentic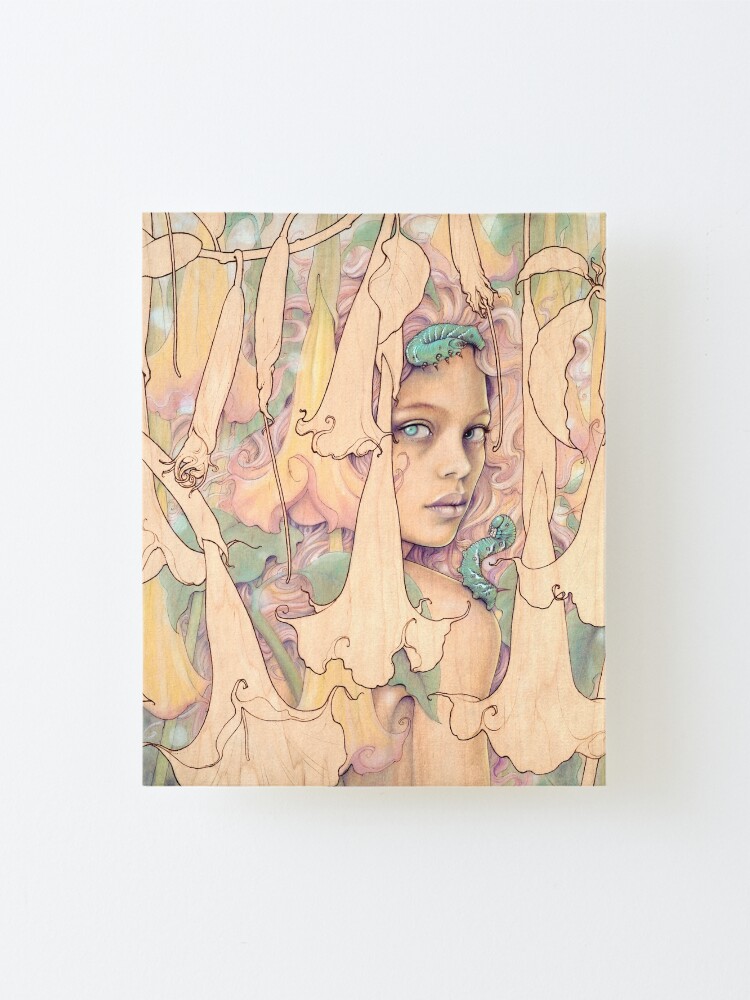 'Datura' mounted canvas print by Fay Helfer on Redbubble
On Redbubble, you can choose from regular canvas prints or canvas mounted prints. Both types of prints come ready to hang. Mounted prints are boards with a cradled backing, that either have a wood texture or canvas texture surface. Canvas prints come in larger sizes, are super lightweight and ready to put on the wall. Mounted prints and canvas prints add a new dimension to the wall, plus, you don't need to frame them.
Society6 canvas prints go up to sizes of 70cm+. The great thing about Society6 is that they often have deals on, making their quality canvas prints even more affordable. So check the link to see if there are any offers on the artworks.
Show off the bold and bright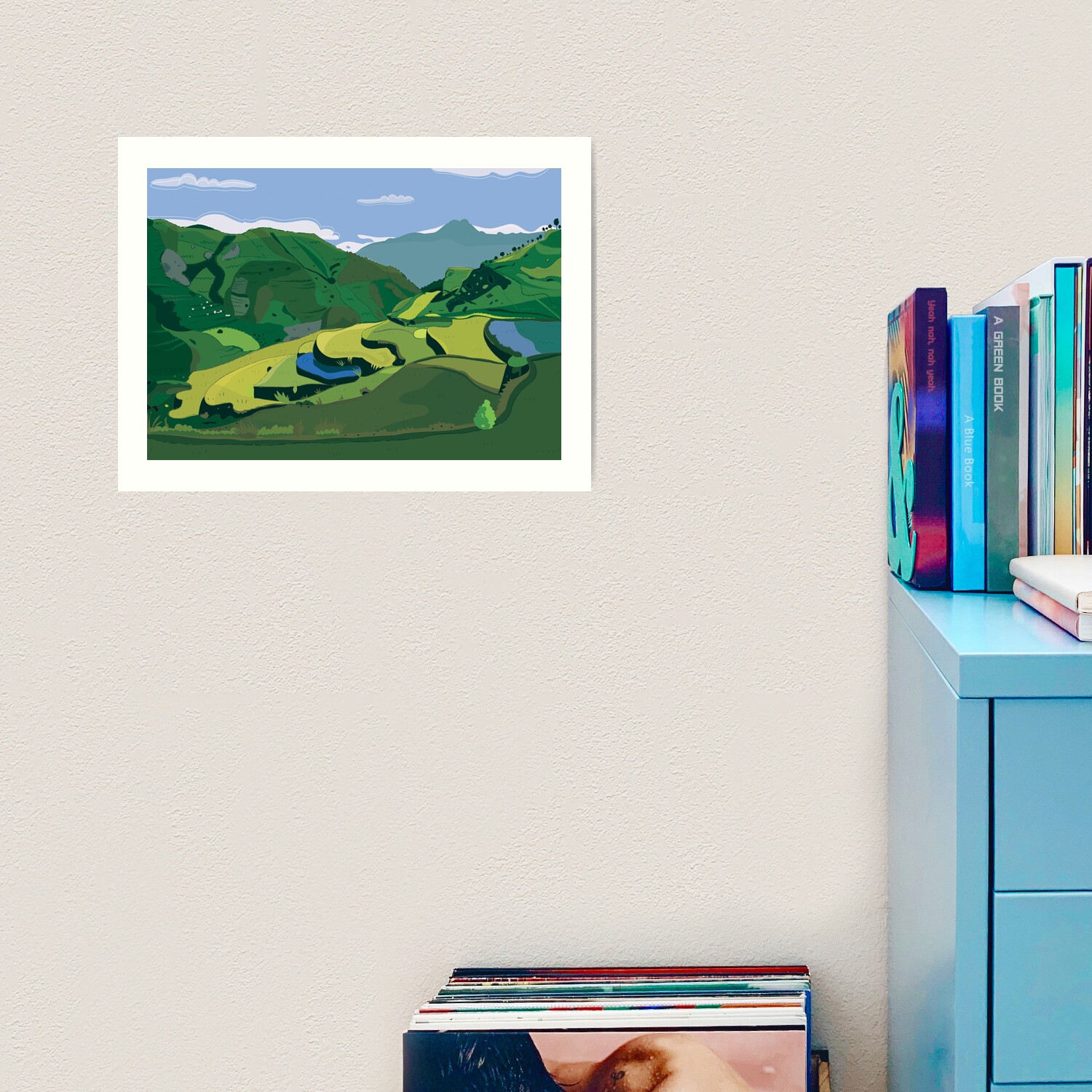 'Rice Terrain' by Mark Padua on Redbubble
There are plenty of bold and bright artworks to choose from on Redbubble. Create a statement by infusing the wall with bright colours. Whether that's the greens of a vibrant landscape illustration to remind you of somewhere you've travelled to, a colourful nocturne or a vibrant pattern design.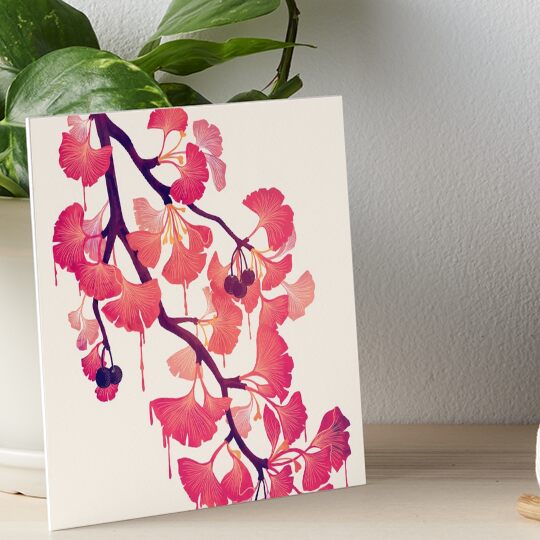 'O Ginko' by LittleClyde on Redbubble
This bright red flower illustration pops out against the white background. It's a simple yet fun pattern to brighten up your wall space. It comes with velcro attachments ready to stick on your wall.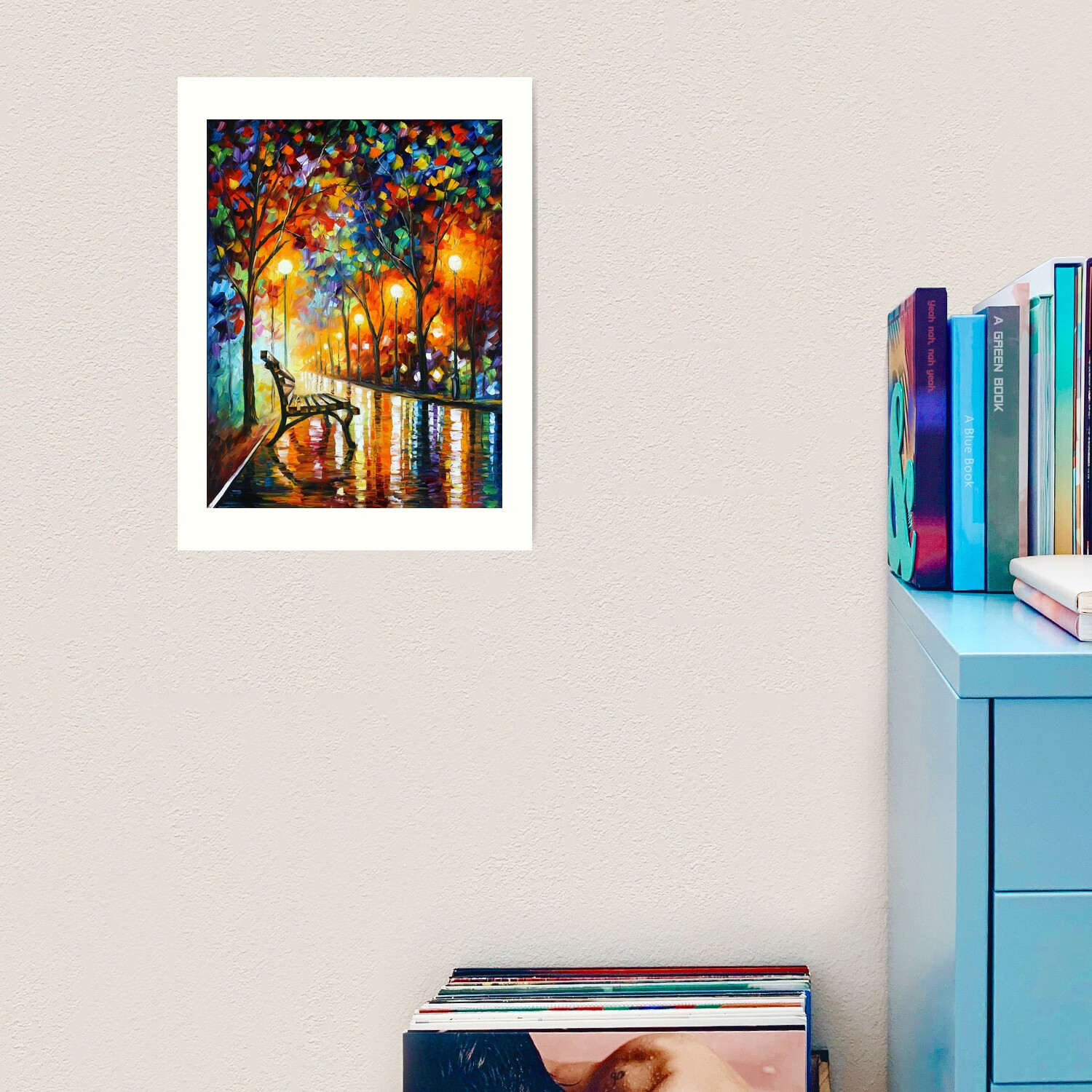 'The Loneliness of Autumn' by Leonid Afremov, art print on Redbubble
Prints on Redbubble are gallery quality, printed on thick 100% cotton paper, which gives them durability and longevity.
Choose a theme
Create cohesion by choosing artworks that have a theme. For example, you could coordinate prints based on colour or subject. For example, you could create a fresh, contemporary look by curating a selection of modern portraits and bright colours like pinks and blues.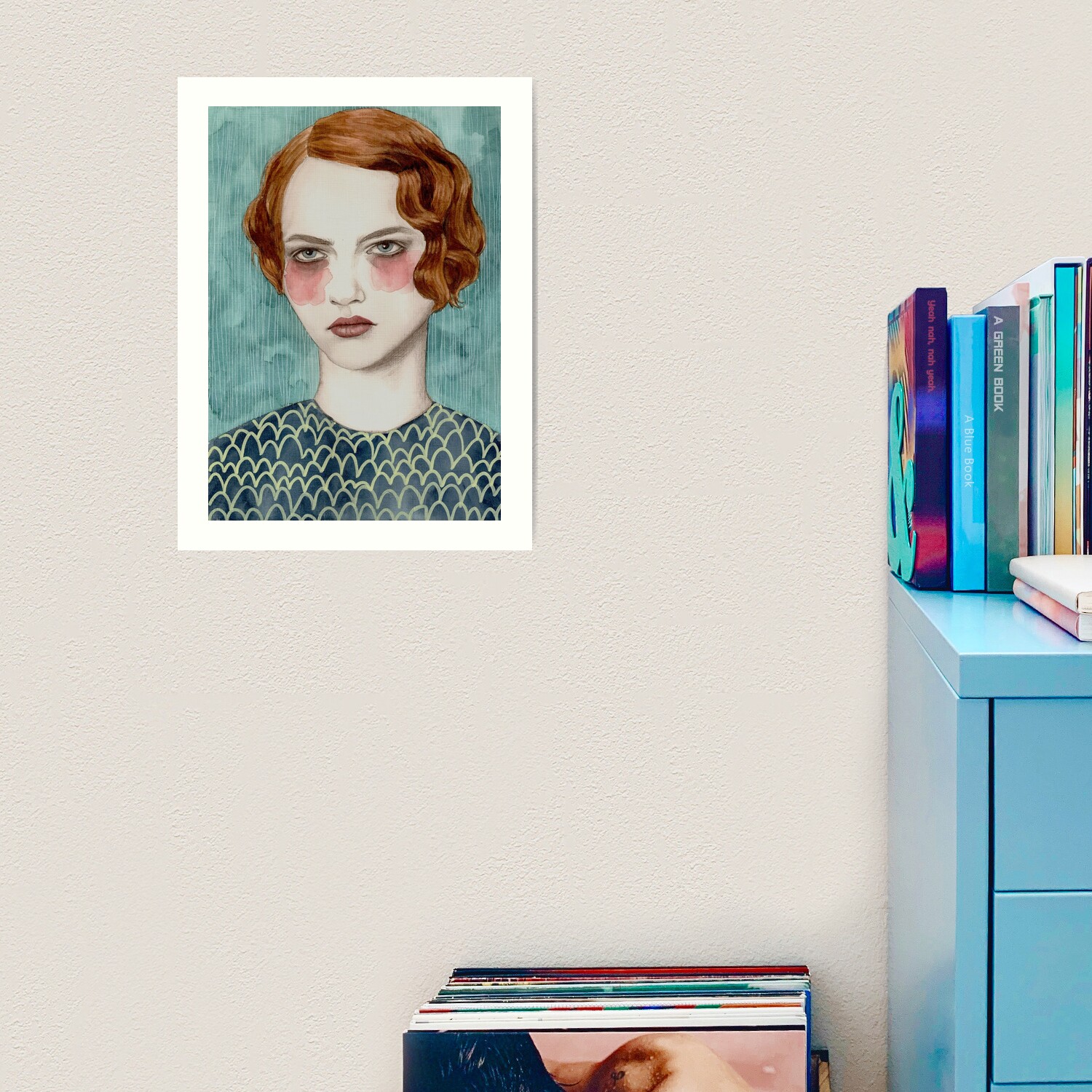 'Sasha' Art Print on Redbubble by Sofia Bonati
Another great idea is to get a few prints from one artist that you especially like. This will keep styles and themes as a constant. Then you could choose abstract prints or other furnishings that complement the colours in the main prints you want to feature. Using the example of the 'Sasha' print featured above, you could arrange the portrait print with a couple of abstract prints that use the moody teal background to keep the look consistent.
You don't have to stick to a theme of portraits, you could choose seascapes, pop art or anything that takes your fancy.
Prints on Redbubble start at around $18, which makes it relatively inexpensive to start collecting and displaying beautiful artworks for your home
Make a gallery wall layout
Find multiple inexpensive prints on Society6 and Redbubble to complete your ultimate gallery wall layout. Mix it up by choosing a range of canvas prints, framed prints, boards and even metal prints. Or maintain a consistent look by choosing prints of the same size and matching frames. Check out this awesome selection of prints on Society6:
You may already have a few pieces of art lying around your house. If you do, why not use them to create a gallery wall layout. You can get creative, pairing drawings or pantings done by friends or family members with framed tiles and a piece you found at a vintage store. Make your layout look as eclectic as you like! Or, you could choose to make a polished looking gallery wall layout, by arranging paintings in a grid layout, or coordinating colour schemes.
To plan your gallery wall, look at the sizes of the prints on the online gallery website and measure how they will fit together on your wall. If you are interested in buying some prints, create a mood board, or mockup with the prints you want to see how they complement one another, like in this blue themed gallery wall mockup of prints from Saatchi.
Choose a funky frame
How a print will look in your space is just as much about how you dress it up, as it is about the print itself. This is a pretty simple botanical sketch, that has been made into a feature by mounting, framing and lighting. Plus, the dark blue wall contrasts against the white of the paper.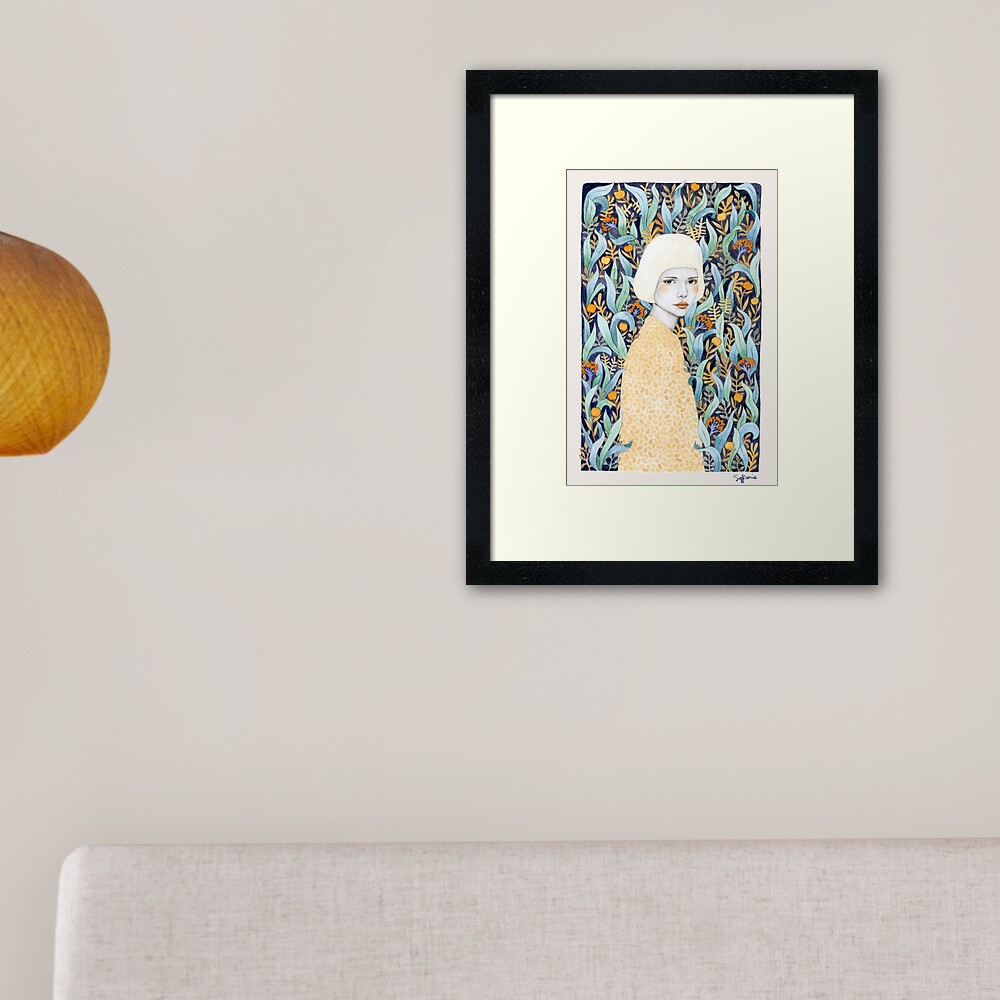 'Emilia' by Sofia Bonati on Redbubble
Both Redbubble and Society6 offer the option of buying prints framed and mounted, so you can take the extra step of finding a framer off your hands.
Find striking second hand frames for cheap at your local market or antiques store. Another place to find an awesome assortment of frames is on Etsy. By choosing a funky frame, you can liven up simple abstract prints or sketches. You could also choose a vintage frame and pair it with a contemporary artwork. Alternatively, you could find a small print and a large frame, then mount it to fill in the gaps.
Create calm with muted tones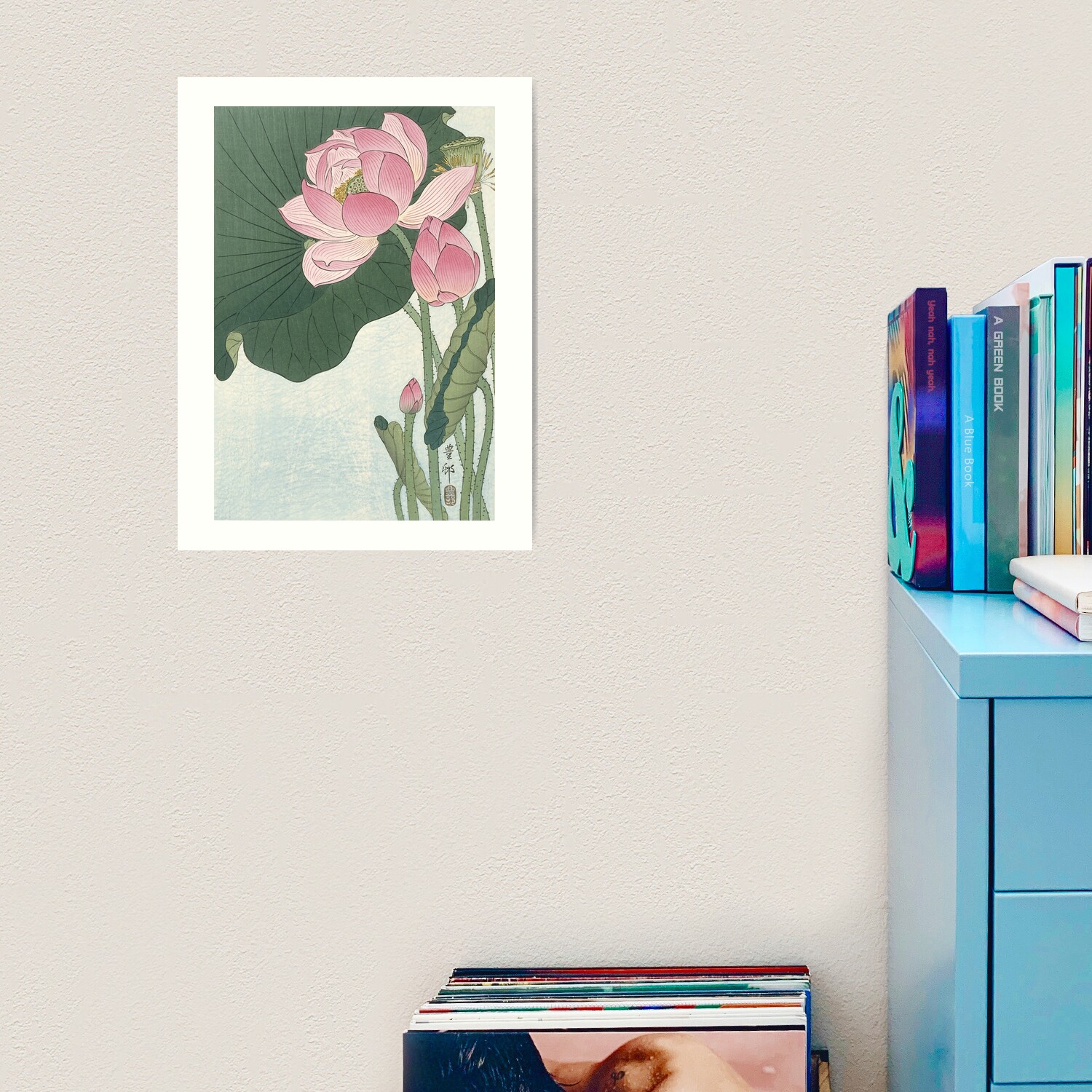 'Lotus Flower' print on Redbubble
Muted tones look sophisticated and elegant. These tones work perfectly in rooms where you want to create a sense of calm. This could be hung above a bath to create a spa feel, or in a bedroom to make you feel relaxed.
Contrast wall art styles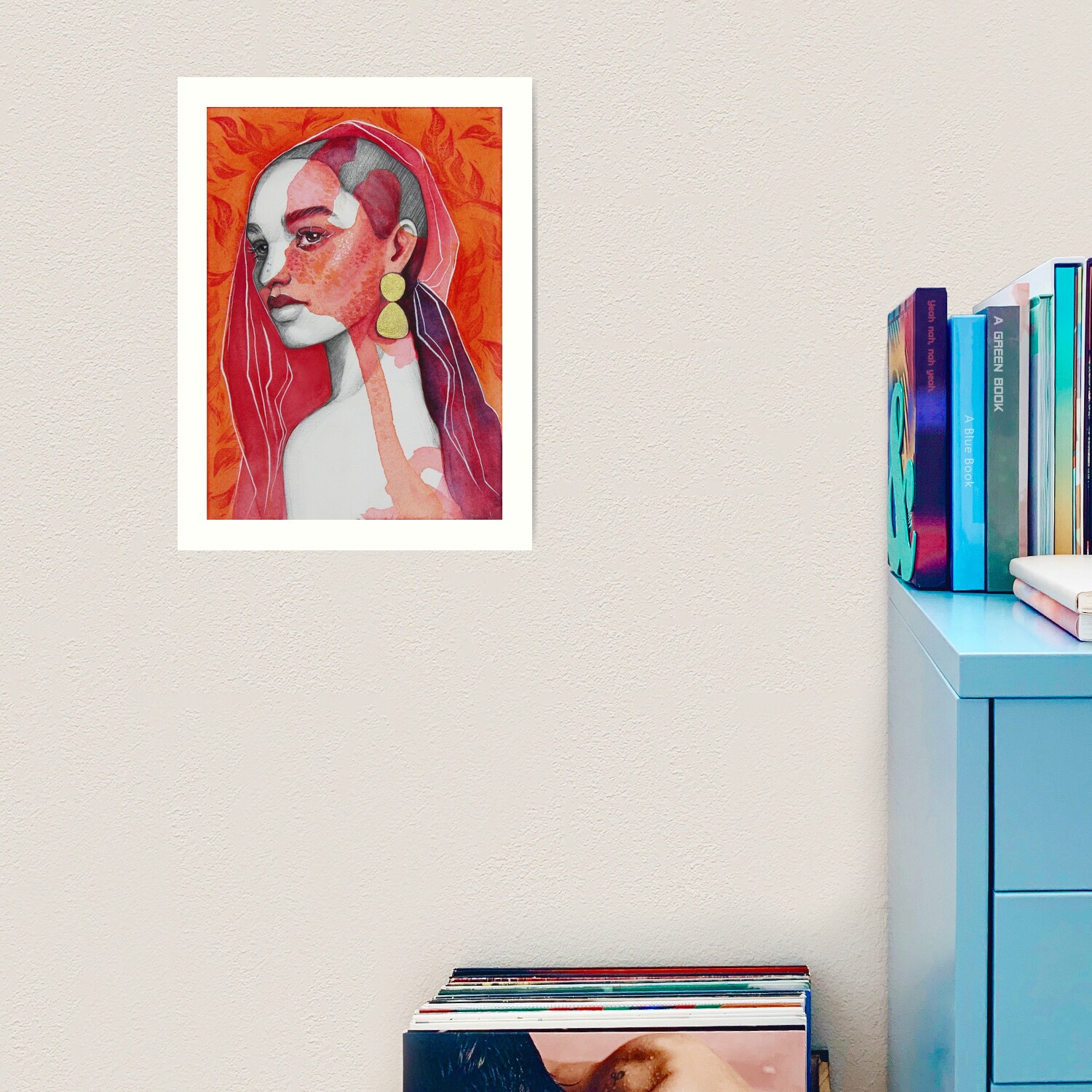 'Chaos Red Girl' by Elena Buya on Redbubble
An effective yet inexpensive wall art idea is to style artworks that juxtapose one another. It could be that the space you are styling is a 20th or even 19th century build, you could arrange modern artworks on the walls to bring contrast against the original features. Or you could style an antique furniture piece next to your contemporary print.
Another option is to create contrast with the artworks themselves. In this grid, there are four completely disparate styles of artworks. One abstract piece, one expressionist piece that tells a story, one simple, soft, gold textured, artwork and a Monet reproduction. What brings these artworks together is the cohesive colour scheme of ultramarine and gold.
Make an impressive mural display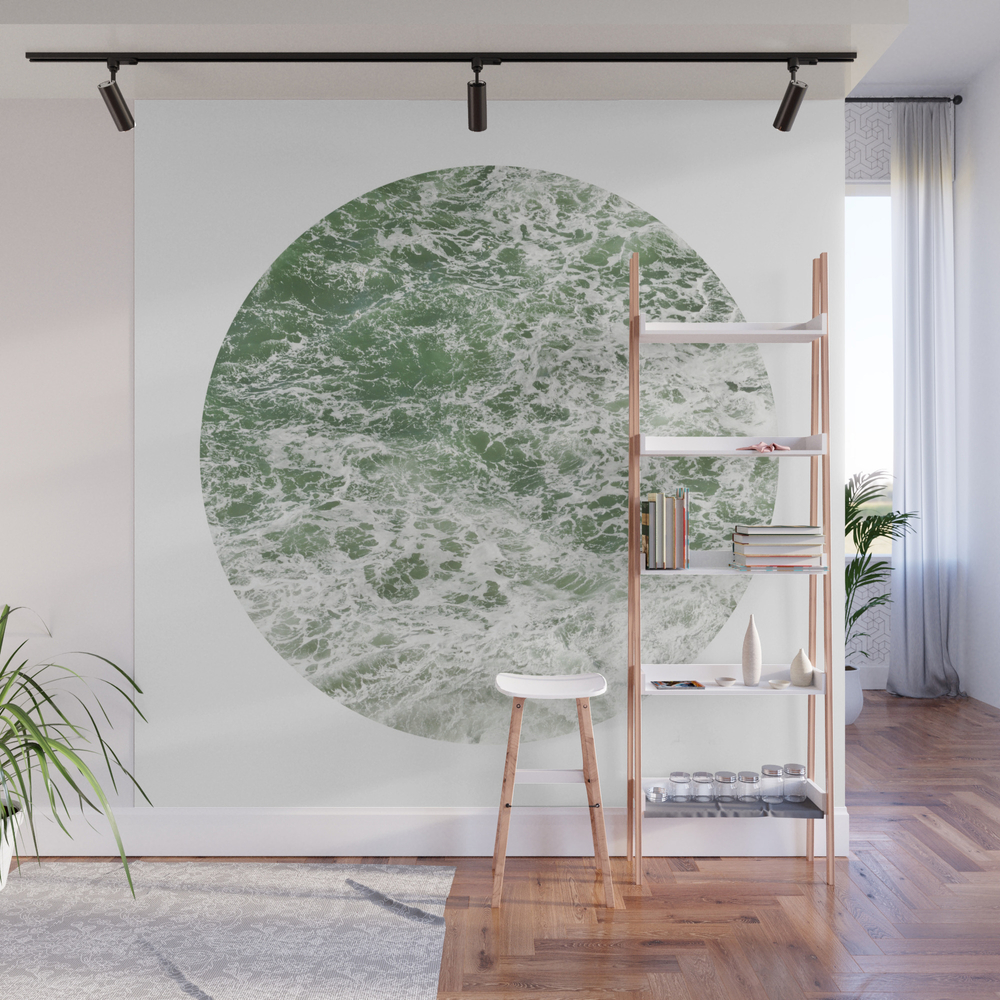 Society6 offer awesome mural artworks that give full coverage and are ready to put on the wall. This frothy green abstract seascape mural is the perfect piece to bring nature and calm into the home. Designs can be stuck onto walls like wallpaper, to cover the entire space. The murals come carefully packaged with instructions on how to put them on the wall.
Abstract wall art ideas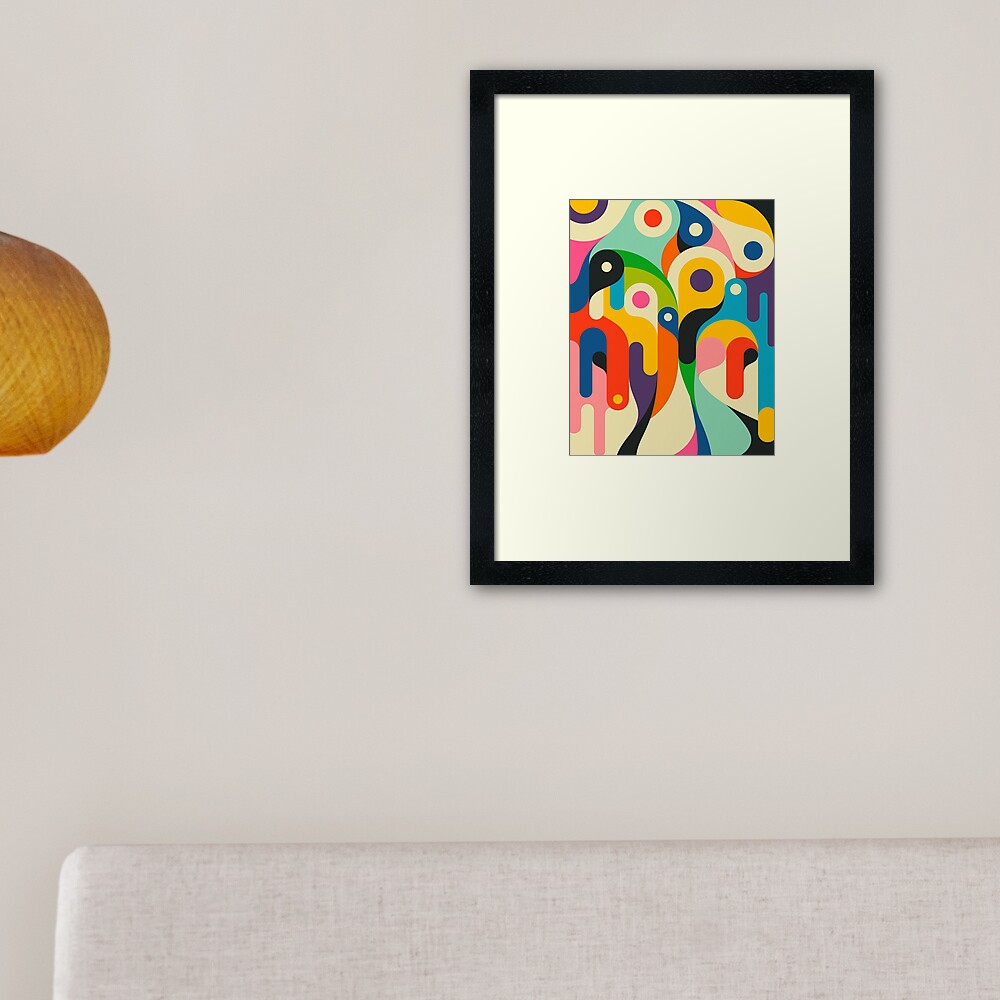 'Homeward' by Jazzberry Blue on Redbubble
Making your space colourful without the complication of choosing a specific subject matter can complement home furnishings nicely. Interior designers often favour choosing abstract art for the simplicity.
If you're planning to redecorate and you find an abstract piece you especially like, you could even plan the colour scheme of the renovations around the artwork.
Make a monochrome set-up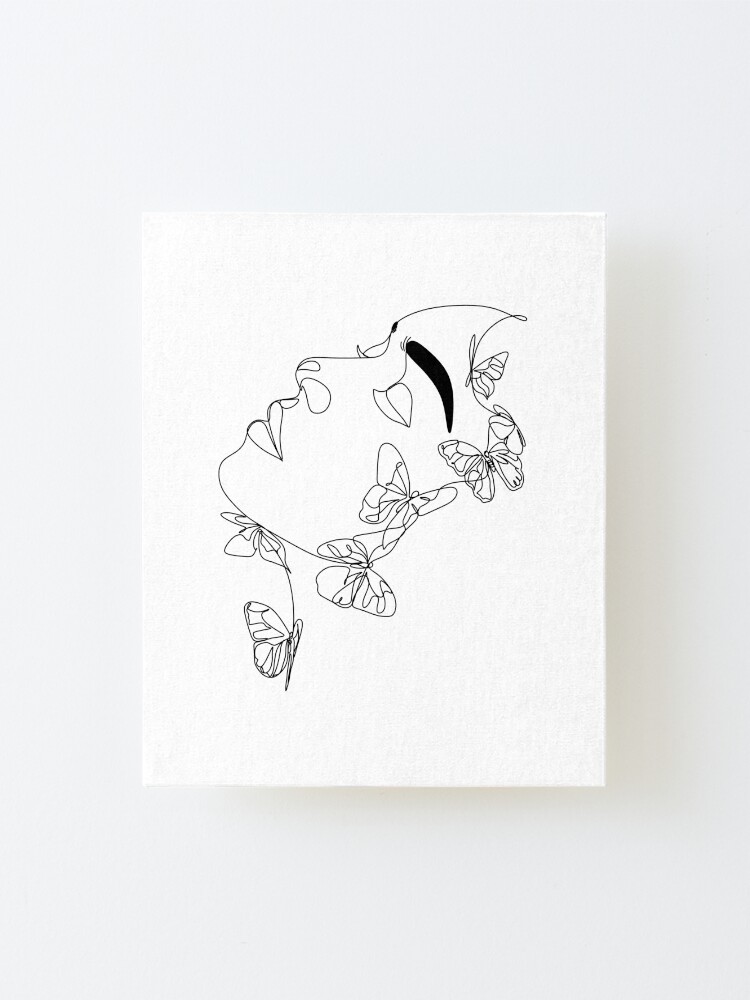 Art by One Line Print on Redbubble
Curate a cool display with simplistic monochrome line drawings, sketches, black and white photo prints and ink drawings.
Monochrome doesn't have to be black and white—choose a colour you love, and find artworks that use only that colour.
Hang a metal print
Prints come in other formats than paper and canvas. Metal is a brilliant, archival option. The aluminium surface is luminous, bringing the colours in the artwork to life. Check out Redbubble's selection of metal prints, to find a unique new addition to your walls.
Bring texture to your space with a fabric print
Get textural and display a fabric print on your walls. Patterned textiles add softness to a room and offer something different to conventional paper prints. Explore Redbubble's selection of tapestries, that start at around $50.
Display smaller artworks on shelves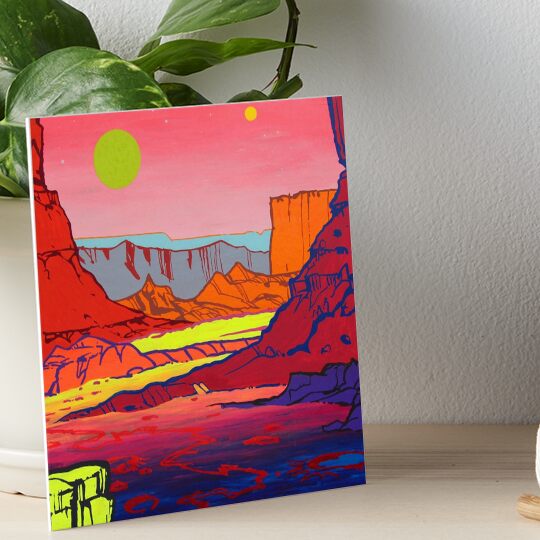 'Canyon' by Adam Springer on Redbubble
These boards from Redbubble are perfect for stacking on shelves. Starting at around $10, these texture matte board prints are just the right size to line up on your desk, mantlepiece, or any shelf you choose. Mantlepieces, shelves or even the top of dressers make a great support for artworks that you're not totally committed to putting on the wall. If you anticipate that you'll want to switch up the artworks on display in a particular room, shelving will give you this flexibility.
Shelves come in many different formats and materials, so choose one that fits with your space! If you want a shelf that will prevent artwork from falling of the edge, consider putting up picture ledge.
Arrange smaller artworks in an eclectic layout—vary the sizes and display some framed and unframed works to add interest. You could pair the artworks with other accessories like small sculptures, clocks, candles or vases.
DIY inexpensive wall art ideas
If you're feeling arty, the most inexpensive way to decorate your walls with art is to make some paintings yourself. Gouache is a fantastic medium that is easy to get started with, the supplies are inexpensive too. Or grab some pencils and paper and start drawing—we have a guide of 70+ drawing ideas you could try. If you feel like you would rather work on canvas and create some abstract art, check out our guide on abstract oil painting.
---
If you've found anything on this site especially useful, you can make a donation to me through PayPal. I take a lot of time to research and write each topic, making sure each tutorial is as detailed as possible and I make all my content freely available. Any small donation (even the price of a cup of coffee!) can help me to cover the running costs of the site. Any help from my readers is much appreciated :).
Follow the link in the button below to support this site.